We're preparing for RSECon24! We're opening the call for the Conference Committee.
RSECon24 will take place the week of 2nd September 2024 with programme co-chairs Katie Finch and Dave Horsfall!
Call for Committee Members
The conference committee is made up of volunteers who give their time and effort from November 2023 through to September 2024. You don't have to be an RSE or in the UK to join. You don't need experience of organising a conference as guidance will be given at all stages. We'd like people onboard who are willing to volunteer for the RSE community and be an active part of making RSECon24 an amazing experience for the community.
The committee is divided into three groups, namely the steering group, the programme team and the logistics team. There is also an Equality, Diversity and Inclusivity Chair who works across all three groups. A diagram of the committee structure is shown below.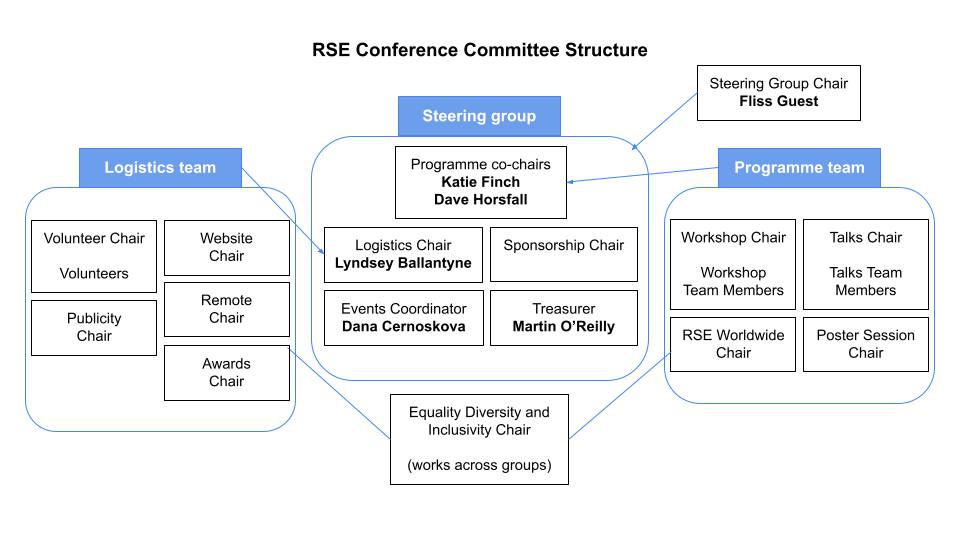 The Perks
You get free entry into the conference and evening social events and we have, in the past, been able to arrange for committee members to go to the talks and workshops of their choice. There will be bursaries available that you can apply for which can be used for travel and subsistence. You will also help to shape the conference format and programme, and be encouraged to put forward your ideas!
The Commitment
From the end of November, the various teams, including the Workshop and Talks teams, will meet for one hour every fortnight online. You may need to work an additional hour or two on your tasks between meetings, but each team works together to spread the tasks amongst them. The time needed will vary from month to month, as well as across roles, with possibly more time (and meetings) needed the nearer we get to the conference.
You are asked to attend these meetings as much as possible, giving your apologies and an update on your actions/area in advance to the chair if you cannot attend. You will be given access to the shared Google Drive to read and edit documents related to the conference.
We ask that you arrive the night before the conference to help with any set up tasks, as well as early in the morning on the first day of the conference. During the conference, you will ensure everything is running smoothly in your chosen area and help out other committee members where needed.
Apply Here
To nominate yourself for the conference committee, simply fill in this Google Form by midnight (GMT) on the 7th November 2023.
The Available Roles