Newsletter – March 2022
Welcome to the March newsletter from The Society of Research Software Engineering! Our monthly newsletter announces new Society initiatives, gathers RSE news, events, blogs, papers and anything else interesting and relevant together in one place. If you would like to add an item or suggest a new section to the next newsletter, submit it via this short form or get in touch with Claire Wyatt, RSE Community Manager.
Society Updates
Welcoming Malvika Sharan
We are delighted to announce that Malvika Sharan has joined us as an extraordinary trustee. Malvika is the community manager of the Turing Way, an open source book project which aims to help people make reproducible, ethical and inclusive data science. She was invited to join the trustee board to advise us on further developing our work on equality, diversity and inclusivity.
Also in other great news, we now have an EDIA working group and we're really pleased to welcome Anika Cawthorn who has joined as our first community member.
RSE Career Ladder Database
Help us to extend and update the RSE Career Ladder database! The RSE Leaders network asked the RSE Society to help gather of example of RSE job descriptions for each stage on the RSE career ladder to help build a database that the leaders can use when planning recruitment. We have adapted the Evidence Bank Github repository (which was previously created by the RSE Leaders) and sorted the existing job descriptions according to career levels.
For this resource to reflect the growing diversity of RSE job roles, we need your help in adding material to the database. Please contribute RSE role descriptions and information about the RSE career stages at your institution by creating a pull request in the repository, or emailing the information to [email protected].
We plan to gather the descriptions and then run a workshop for the RSE Leaders to try and extract the essential requirements for each career stage.
10 Years RSE
Thanks so much to all those that took part on twitter to celebrate 10 years since the term "research software engineer" was first coined (#RSE10Years). It was great to see so many cakes and hear how much RSE means to our community.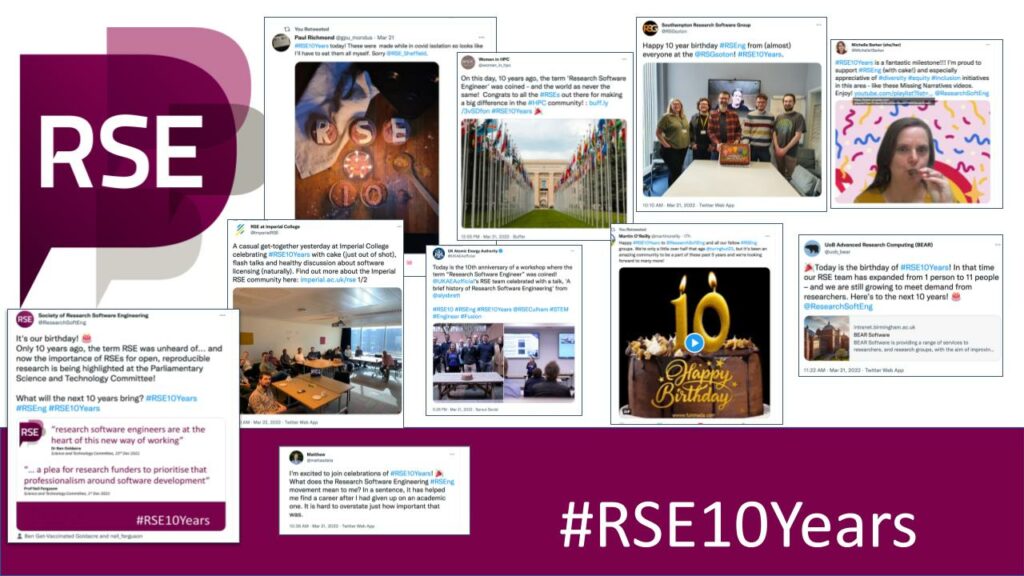 DiveRSE talk series
SocRSE was proud to welcome Mary Ann Leung, Ph.D., Founder and President of the Sustainable Horizons Institute, as our inaugural speaker in the DiveRSE talk series. Mary Ann spoke about "Normalizing inclusion by embracing difference". The highly interactive session explored what it takes to achieve DEI, also known as equity, diversity, inclusion (EDI) and justice, equity, diversity, inclusion (JEDI) and how reframing DEI within RSE could increase innovation and developer productivity. Mary Ann talked about how cultivating respect and embracing difference could help to normalize inclusion. DiveRSE is a series of talks and related activities including discussion and panel sessions designed to support and raise awareness of Equity, Diversity and Inclusion (EDI) challenges and successes within the research software community. The series runs from March 2022 and is linked to the "Vive la différence – research software engineers" workshop being hosted at the Lorentz Centre in The Netherlands in April 2022.
Announcements
RSECon2022
The call for submissions for RSECon2022 is now open here! The conference will take place from Tuesday 6th to Thursday 8th September in Newcastle. Please visit the website to find out more: https://rsecon2022.society-rse.org/. If you would like to hear updates on the conference, please fill in this form to be added to the mailing list.
Looking for interview participants!!
Chris Crabbe is a PhD student (University of Huddersfield, UK) looking for interview participants to explore decision-making processes in software development. Please feel free to reach out if you are an RSE with years of experience in the areas of programming/development or a managerial role. Email: [email protected]
Calling for RSE volunteers to join Research Software Camp's software surgery
The Software Sustainability Institute is looking for Research Software Engineers volunteers to join our Research Software Camp's software surgery. Volunteers will ideally self-identify as Research Software Engineers, even if that's not their current job title. The spring Research Software Camp: Next steps in coding will focus on improving computational and training skills and exploring existing resources out there. The Camp will be held from 16th to 27th May 2022. As part of the Camp we will be running a software surgery which aims to provide a safe and welcoming space for people to get advice on their software challenges. By volunteering to help with the software surgery you can put your software skills to good use and help others in the community. It is an opportunity to practise your own skills, from diagnosing interesting technical problems to reviewing code. Volunteers will also receive an SSI t-shirt and stickers as a thank you! Sign up here: https://www.software.ac.uk/news/calling-rse-volunteers-join-research-software-camps-software-surgery
Case Studies
We have a brand-new case study! Meet Emma Hogan a Senior Scientific Software Engineer (SSE) at the Met Office: https://society-rse.org/careers/case-studies/Emma-Hogan/ Emma is now an SSE Ninja in climate science at Exeter, and previously worked six years at the Gemini Observatory in Chile.
We're looking for more case studies! We want to show all the shapes and forms that RSEs come in, and all the brilliant work they do and are looking for RSEs willing to work with us to put together case studies. We will send you a set of questions to answer (either career-focused or EDI focused, your choice), and are very happy to have a chat if you are unsure about something or need help writing up your answers. Email [email protected] if you are interested or have any questions.
Events
March
Registration is now open for the UKRI Cloud Workshop 2022! The workshop is being held on March 29th at the Francis Crick Institute in central London. Catering for the event has been kindly sponsored by Microsoft and Amazon Web Services. The preliminary programme is here.
April
The Collaborations Workshop 2022 (CW22) will take place online from Monday 4 April – Thursday 7 April 2022. The Software Sustainability Institute's Collaborations Workshop series brings together researchers, developers, innovators, managers, funders, publishers, policy makers, leaders and educators to explore best practices and the future of research software. The themes of the CW22 keynote presentations, discussion groups, mini-workshops, collaborative ideas, and hack day will be around the following areas of research software: Code Review, Ethics, Hybrid Working, and Software Sustainability. To find out more information including registration and the agenda, please visit the CW22 website: https://software.ac.uk/cw22 https://buff.ly/3tfURrn
September
RSECon2022 – The call for submissions for RSECon2022 is now open here! The conference will take place from Tuesday 6th to Thursday 8th September in Newcastle. Please visit the website to find out more: https://rsecon2022.society-rse.org/. If you would like to hear updates on the conference, please fill in this form to be added to the mailing list.
Podcasts
Happy Birthday RSE! Listen to Peter Schmidt in conversation with the 7 participants who were there on 21 March 2012. Here's to another great 10 years!
Rebooting gone wrong! – the first Software Horror Stories 10-minute episode is now available on the Code For Thought podcast. Yo Yehudi, Executive Director at Open Life Sciences, joins Selina Aragon, SSI Communications Lead and host of the series, as the first guest of Software Horror Stories. Yo talks through one of the scariest moments of her life as an RSE, how she fixed it, and her tips to overcome your very own horror stories.
Sylvain Laizet, host of the 'Turbulence at the Exascale' Podcast interviews SocRSE trustee Marion Weinzierl from the University of Durham. You can find the podcast here – https://youtu.be/FGRj3O5C9q4.
The Podcast Experiment – Peter was one of the original voices of RSE Stories as a host, and now Vanessa Soch has flipped the mic to hear his story about moving from industry to a research software engineer and joining the #RSEStories podcast and now leading his podcast series #CodeForThought! Listen to his episode here: https://us-rse.org/rse-stories/2022/peter-schmidt/
Papers
A new white paper "Research software engineering: Professionalization, roles, and identity" by Ben Sims at Los Alamos National Laboratory is out. It includes interviews from 17 research software engineeers and also uses the #RSEStories podcast as a source for the study. You can find the paper here.
RSE Worldwide
Awareness of the RSE role and the RSE community is growing around the world with new national groups being created all the time. In this section, we introduce these groups and raise awareness of their success. The Society supports new groups and collaborates with representatives from them on various initiatives (papers, international workshops).
In January 2021, the International Council of RSE Associations was founded as a forum to communicate and formally meet to ensure cohesion between associations and to provide a platform for open discussion around international issues and affairs.
(In alphabetical order)
Join the (informal) chats of the Belgium Research Software Engineers community on https://gitter.im/be-rse/.
Check out upcoming events!
Dates for the joined monthly calls of the Open Science und Research Software Engineering communities can be found here.
New meet-ups are scheduled for NL RSE. Interested in proposing a workshop, talk, or some other contribution? Get in touch!
Research Software Hour…Hosted by members of the Nordic-RSE community, this continues weekly on Twitch. Research Software Hour is an online stream/show about scientific computing and research software. It is designed to provide the skills typically picked up via informal networks; each week, they do some combination of exploring new tools, analyzing and improving someone's research code, and discussion. Watchers can take part and contribute code to us which they analyze and discuss on stream. They broadcast on Twitch Thursdays at 20:30 Oslo time / 21:30 Helsinki time.
Upcoming and recurring events can be found on the events website!