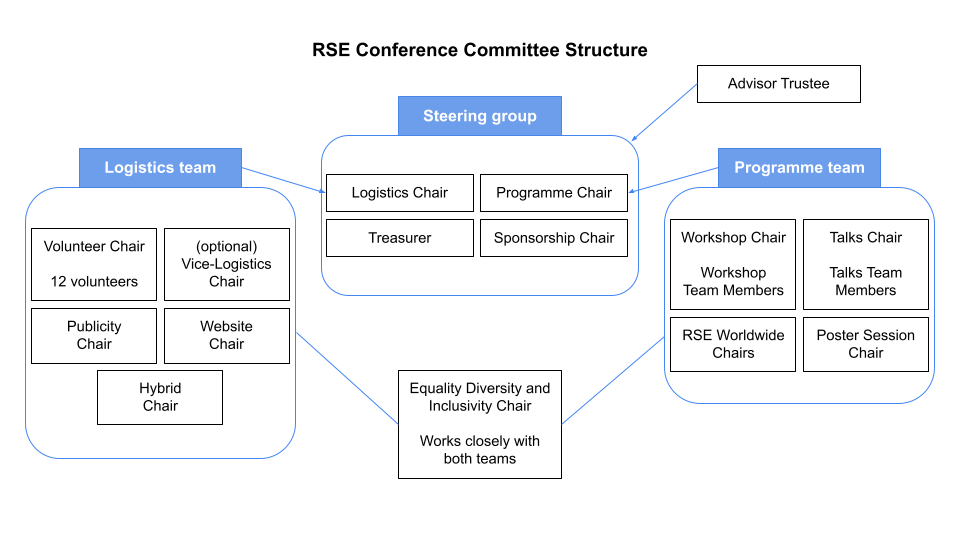 The Logistics Chair and Programme chair co-lead the conference committee working closely together throughout the nine months from January to September to deliver the conference. They work primarily delivering their respective area, but along with the Treasurer role form a steering group for decision making. They alternate chairing the committee meetings and can step in to cover urgent tasks for each other due to annual leave etc.
The Website Chair and Diversity Chair work with both teams when necessary and relevant.  The Logistics co-Chair is a role covered by a trustee from the Society of Research Software Engineering committee and is currently filled by Claire Wyatt, RSE Community Manager. Ideally, the Programme co-Chair would an experienced RSE and this position is filled annually from the RSE community.  
The Logistics team worked hard in 2022 to plan and deliver a hybrid component of the conference, but it wasn't practical to deliver alongside planning the normal conference. As of 2023, we have implemented a Hybrid Chair role. The chair will have responsibility for scoping out, and organising, a potential hybrid component to the conference that maximises the potential for remote involvement without risking our in-person attendance.